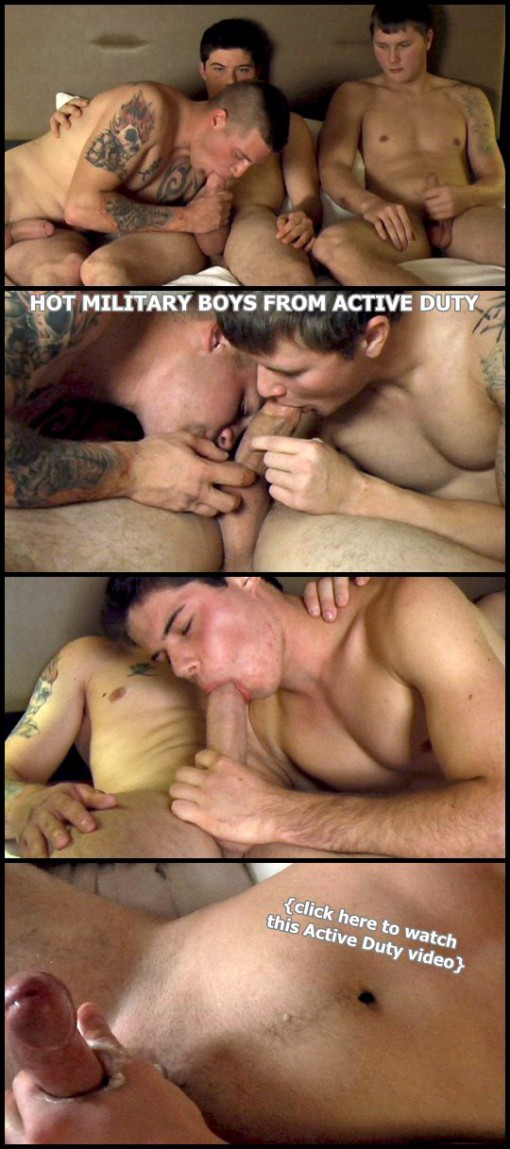 It's been awhile since I've talked about Active Duty; not only a site featuring authentic military guys, but also one of my favorite sites overall.
Before Chris was to get together with the hung military stud Jonavik, he decided to go get his dick sucked from two of his buddies.
From the episode description:
But before Chris lays his big pipe to the also super hung Jonavik, Chris meets up with two other Covert hotties for a little oral pleasure where he gets that dick sucked by not one, but two hotties and even sucks some cock himself. I think you'll agree that Nick and Art were a perfect match for Chris and his horsecock and once you see how well they chow down on that thing you'll see why Chris was so inclined to return the favor. Nick is the little devil in this trio and he's got some secrets to share. Once he latches on to that huge cock of Chris', it's hard for Art to get him to share. Chris is loving all the attention and that big cock of his is, too. And who can blame him? Wouldn't you love these two hungry pups sharing your cock? It doesn't take long to convince Chris that he should return the favor and he takes Nick's big uncut cock down his throat gives it plenty of attention before switching up and doing the same for Art. It's a cock buffet and everyone gets a taste of everyone in this hot oral threeway. [continue reading…]

Follow us on Twitter!
Follow us if you want to be the first to know about great new gay porn videos, photos and gossip!
Categories
Free Porn Sites
Friends
Spunk Porn Areas
Popular Search Terms
Random Search Terms
Our Friends