Browsing all articles in Fetish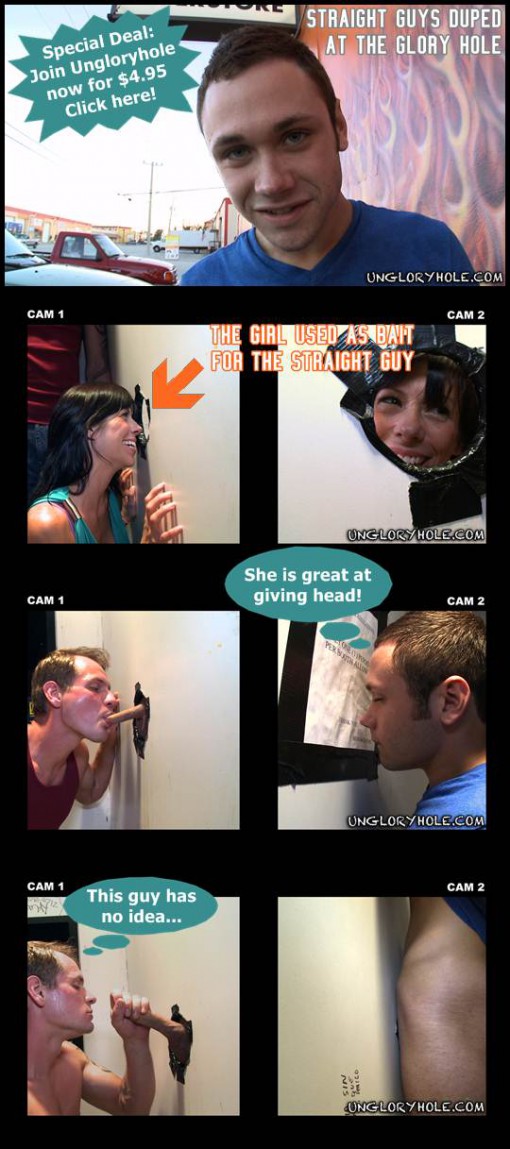 Have you heard about the awesome site Ungloryhole? It's a site where they dupe straight guys into getting a blowjob from a gay guy by tricking him into thinking he's going to be getting one from a girl.
They approach the straight guy on the street near the adult bookstore where they have the special glory hole setup. They promise him that he'll get blown by a hot girl. In fact, the girl is in the glory hole once he gets there to show him what he's going to be getting.
Once he sees the girl, she scoots out of the way and a gay guy takes over. He gives the straight guy a blowjob all the way until he blows a big load of cum that usually sprays all over the gay guys face.
Watch this Ungloryhole video now!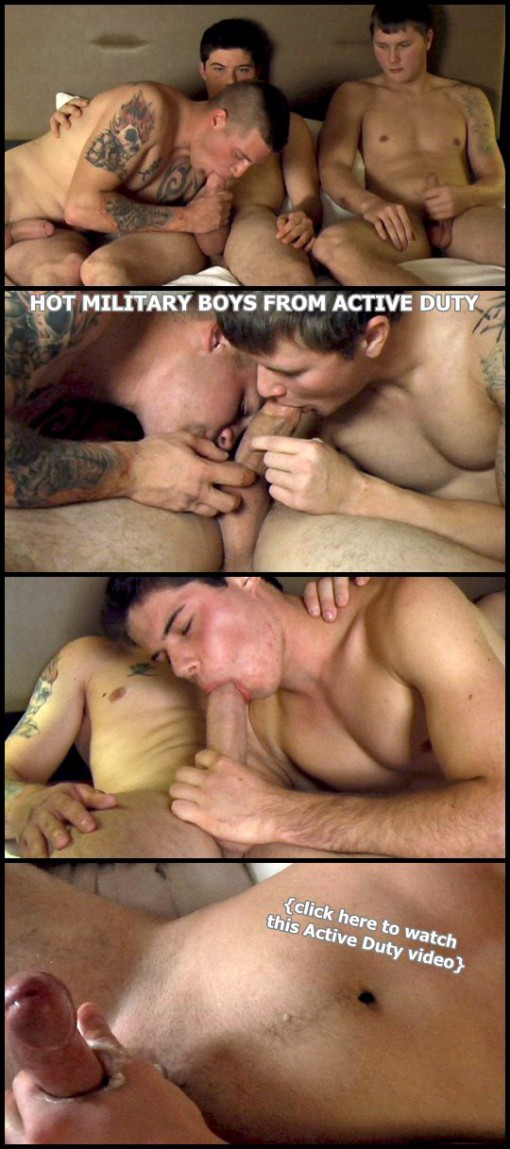 It's been awhile since I've talked about Active Duty; not only a site featuring authentic military guys, but also one of my favorite sites overall.
Before Chris was to get together with the hung military stud Jonavik, he decided to go get his dick sucked from two of his buddies.
From the episode description:
But before Chris lays his big pipe to the also super hung Jonavik, Chris meets up with two other Covert hotties for a little oral pleasure where he gets that dick sucked by not one, but two hotties and even sucks some cock himself. I think you'll agree that Nick and Art were a perfect match for Chris and his horsecock and once you see how well they chow down on that thing you'll see why Chris was so inclined to return the favor. Nick is the little devil in this trio and he's got some secrets to share. Once he latches on to that huge cock of Chris', it's hard for Art to get him to share. Chris is loving all the attention and that big cock of his is, too. And who can blame him? Wouldn't you love these two hungry pups sharing your cock? It doesn't take long to convince Chris that he should return the favor and he takes Nick's big uncut cock down his throat gives it plenty of attention before switching up and doing the same for Art. It's a cock buffet and everyone gets a taste of everyone in this hot oral threeway. [continue reading…]
Imagine being a professional masseuse and getting a client that is absolutely irresistable. Would you push the boundaries and do things you weren't supposed to? What if you knew the client was gay? Of course you'd cross that line!
The happy masseuses at Rub Him cross that line in every video and love to give their clients the happy ending they secretly desire.
In this Rub Him video, the client is a guy with a perfect body, great ass and beautiful cock. Luckily for us, we get to see him strip down and the masseuse oil him up. After working out his tense muscles, the masseuse goes for the clients ass, lubing it up and inserting a dildo into it.
After fucking the hot clients ass with a dildo for awhile, the masseuse flips him over and gives his beautiful client a handjob until he gets to his happy ending.

Out in Public has another great video out there called In the Middle of Nowhere featuring two guys who think they're making a porn video outdoors where they won't get caught. To their surprise, they are busted, by a guy who works in a neighboring building they thought to be vacant. Oops!
Click here to watch this Out in Public video.
If you love public gay sex as much as I do, then you should join the site right now for just $4.95!

Follow us on Twitter!
Follow us if you want to be the first to know about great new gay porn videos, photos and gossip!
Categories
Free Porn Sites
Friends
Spunk Porn Areas
Popular Terms in Category
Popular Search Terms
Random Search Terms
Our Friends