Browsing all articles in Straight Boys

Broke Straight Boys recently had back Jamie — a fan favorite — and teamed him up with newcomer Tony.
The two straight boys work together at a cell phone shop and do not make anywhere near enough money to survive. Jamie had told his buddy that he went to the Broke Straight Boys studio to earn some extra dough when needed and this time brought along his co-worker.
In this video, it's Tony that is getting fucked by his buddy Jamie after they jerk off together and share a hot blowjob.
Click here to watch this Broke Straight Boys video now!

If you haven't heard, Straight Rent Boys is a great site filmed by David, a guy known for getting straight boys to strip down and do things they never thought they would in exchange for cold hard cash.
In this episode we have Jacob and Chris, two guys who say they are straight. Jacob is straight up hetero, but Chris admits to having his "quirks," so there may be some gay tendencies there — and that's good for us! Jacob is a straight rent boy but accepts $50 now and again to give the occasional blowjob. Jacob's girlfriend bitches to at him a lot about money and the $50 always comes in handy when he needs her to shut up. David gets both of the guys to give each other blowjobs by throwing $300 at them — more than they usually get hustling on the streets.
Now that David has them enrolled in his straight boy bootcamp, he knows that they are like putty in his hands and can get them to do more. By throwing a lot more money at them, David gets Jacob and Chris to have their first anal experience with Chris fucking Jacob's virgin ass in this hot Straight Rent Boys video.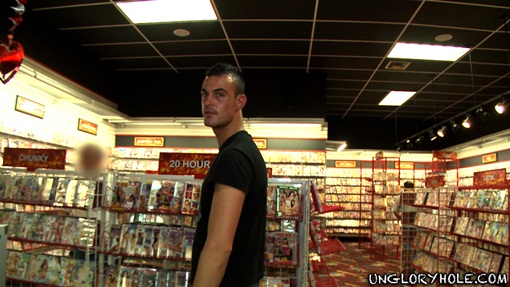 Who doesn't love hot gloryhole action at the adult bookstore? Sign me up! I gave my first blowjob at a gloryhole in an adult bookstore soon after turning 18. I went to the adult bookstore about 5 miles from my house with a good straight friend whose 18th birthday was the day after mine. In awe at the entire adult experience, we first browsed the videos. Naturally, it was the straight videos because I was still in the closet.
My straight buddy said that he was going back to the video booths to check them out and I told him that I was going to hang out and look at more videos. About four minutes after he headed back, I went back to the booths myself. I grabbed one that had a gloryhole. I started watching a video and about 5 minutes in, there is a knock. I knock back. A nice 7″ cock comes through the hole. It looks familiar.
In the past, my friend had fucked his girlfriend in front of me. I always suspected he was bi because he always liked to get naked with all of his friends and then there was the whole "watch me fuck my girl" experience. It was my friends cock for sure. I took it in my mouth, and started sucking it. I sensed that my friend was quivering on the other side. I kept going until he blew a big load of sweet tasting cum in my mouth. I then rushed out of the booth back to the videos so that he would be none-the-wiser. As far as I knew, he never suspected it was me that was blowing him. Or maybe he did. One thing for sure, there were zero women in that store and he had to have known he was going to get blown by a guy. That is what confirmed the bi-tendencies for me.
It will go down forever as one of the hottest experiences of my life because I had a huge crush on this guy.
That experience is why I love the site Ungloryhole. It was like my experience, except they lure a totally straight guy into the gloryhole booth with a girl and then her gay friend takes over and blows the guy and in some videos gets fucked by them. Each of the booths have cameras that record all of the action. Since it is all real, there are no "staged" photos, but the camera is HD and we end up with great screen caps like those here.
From this episode in the Ungloryhole member area:
What's up peeps! This week in Ungloryhole we have the Italian-Stallion Aaron Styles sticking his dick through wall. We met up the Adult boutique store. Figured why not get your blood pumped before the action starts. Sure enough wasting no time at all and went inside the dvd booth. Finding himself starring at a hot chick through a hole in the wall. Thinking he's a lucky fucker. He pulled his dick out and stuck in the hole. By his reactions. Seems like this man just got the best blow-job he's ever had. Too bad he doesn't know who was doing the sucking. Stay tuned!

Follow us on Twitter!
Follow us if you want to be the first to know about great new gay porn videos, photos and gossip!
Categories
Free Porn Sites
Friends
Spunk Porn Areas
Popular Terms in Category
Popular Search Terms
Random Search Terms
Our Friends