Browsing all articles in Twinks

These frat boys found the website Dick Dorm, which offers $10,000 for each submission where straight college boys do gay stuff. They tell visitors that they should get a gay guy to bait the straight guys and lure them with promises of lots of cash.
In this submission, the a straight college boy have to give a blowjob and fuck a gay guy. As you can see, the straight guy has no idea what he is doing when giving a blowjob, but when you watch the video you find that he eventually find his way. The poor guy that is fucking a guys ass for the first time has to rely on a prop in order to keep it up — a dirty magazine full of naked chicks.
At the end, when they've all spilled their cum all over the place, all of these college boys look happy. Who wants to bet that they go gay again when a chick isn't around to get them off? What's the saying… "once you go gay, you never go back." Err wait, that's not it.
Click here to watch this Dick Dorm video.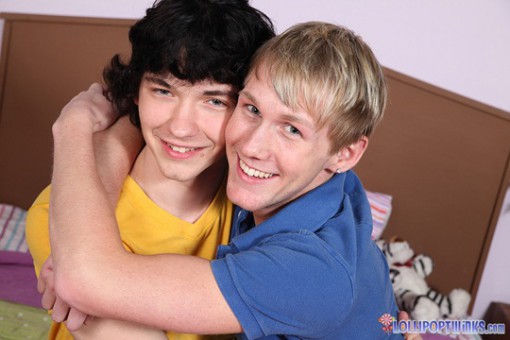 This morning I woke up horny as usual and headed up to Lollipop Twinks to get me off. The latest scene features dark haired Josh Bensan fucking cute blonde twink Hayden Chandler; two adorable barely legal boys that are really into each other.
These boys with perfectly smooth bodies start off by 69'ing and swapping blowjobs. After playing around with each others cocks, curly hair boy Josh shoves his hard cock deep into Hayden's ass and gives him a fucking he won't soon forget in this hot Lollipop Twinks video.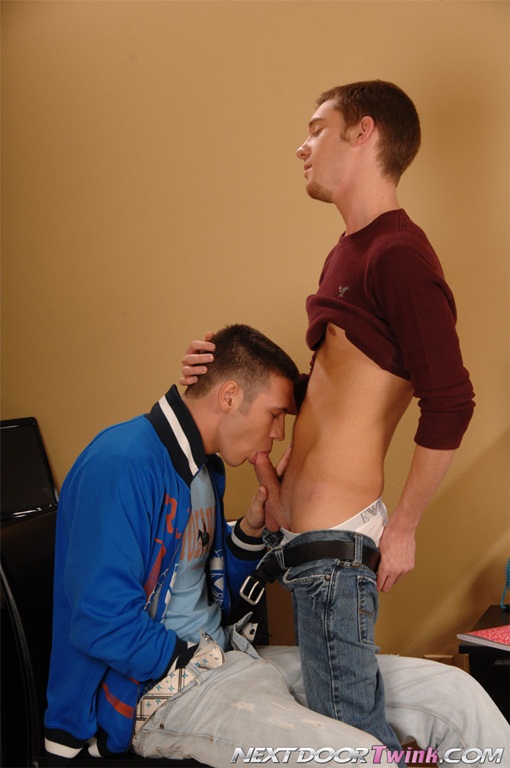 Today's update is courtesy of one of my favorite sites, Next Door Twink. The studio got together the sexy Jay Cloud and adorable Jordan Foster to do a hot scene together.
The scene starts off with Jay walking into the bathroom to take a piss. He pulls down his jeans and out flops his big meaty cock. As Jay is doing this, Jordan walks past the door and catches a glance of the huge cock that Jay is holding in his hands. Jordan takes it upon himself to walk in, drop to his knees and work Jay's cock from flaccid to rock hard in record time. After Jordan Foster works on the cock of Jay Cloud for awhile, Jay deciding it is time to return the favor, pull's Jordan's already hard cock out of his pants and they begin jerking off together. The temptation of Jordan's cock is too much and Jay gives him a hot blowjob. It all becomes too much for both of these studs and Jay bends Jordan over the bathroom sick, shoves his cock in him and they start fucking like wild bunnies. Jay fucks Jordan long and hard from the behind, pounding his tight hole while Jordan works on his own cock. Jay pumps and pumps until he cannot pump anymore and pulls out in time to blow a huge load!

David, the guy that shoots for Broke Straight Boys headed out into his local park in Fort Lauderdale, Florida looking for straight guys that would jerkoff on camera in exchange for some instant cash. David came across a buzzed hair cutie named CJ who was down by the waterfront working on watercolors. Striking up some conversation to feel him out, David learns that CJ is a 19-year-old struggling student at University of Florida who is majoring in arts.
CJ revealed in his conversation that he was $400 behind on his rent. David saw this as a great opportunity to get CJ into the studio and offered him $50 to flash his dick on the spot as a sort of test. He was surprised, but realizing it was easy money, he pulled his soft cock and good sized balls from his shorts. Then David ups the ante and offers CJ $100 more if he'll come back and jerkoff on camera. It didn't take CJ long before saying yes.
The jerkoff video is a hot one and you can watch it by clicking here.

Follow us on Twitter!
Follow us if you want to be the first to know about great new gay porn videos, photos and gossip!
Categories
Free Porn Sites
Friends
Spunk Porn Areas
Popular Terms in Category
Popular Search Terms
Random Search Terms
Our Friends