Browsing all articles tagged with active duty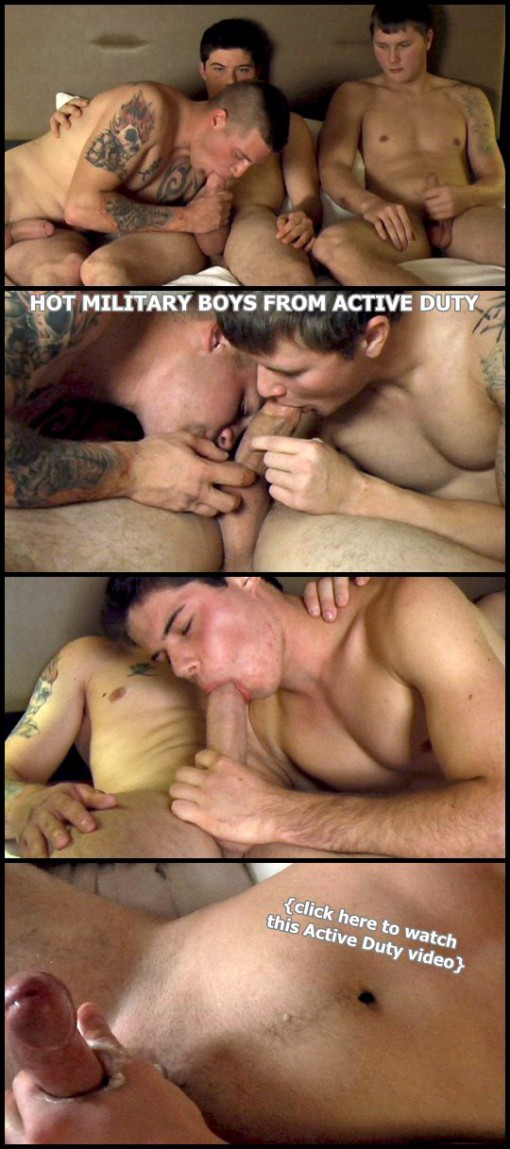 It's been awhile since I've talked about Active Duty; not only a site featuring authentic military guys, but also one of my favorite sites overall.
Before Chris was to get together with the hung military stud Jonavik, he decided to go get his dick sucked from two of his buddies.
From the episode description:
But before Chris lays his big pipe to the also super hung Jonavik, Chris meets up with two other Covert hotties for a little oral pleasure where he gets that dick sucked by not one, but two hotties and even sucks some cock himself. I think you'll agree that Nick and Art were a perfect match for Chris and his horsecock and once you see how well they chow down on that thing you'll see why Chris was so inclined to return the favor. Nick is the little devil in this trio and he's got some secrets to share. Once he latches on to that huge cock of Chris', it's hard for Art to get him to share. Chris is loving all the attention and that big cock of his is, too. And who can blame him? Wouldn't you love these two hungry pups sharing your cock? It doesn't take long to convince Chris that he should return the favor and he takes Nick's big uncut cock down his throat gives it plenty of attention before switching up and doing the same for Art. It's a cock buffet and everyone gets a taste of everyone in this hot oral threeway. [continue reading…]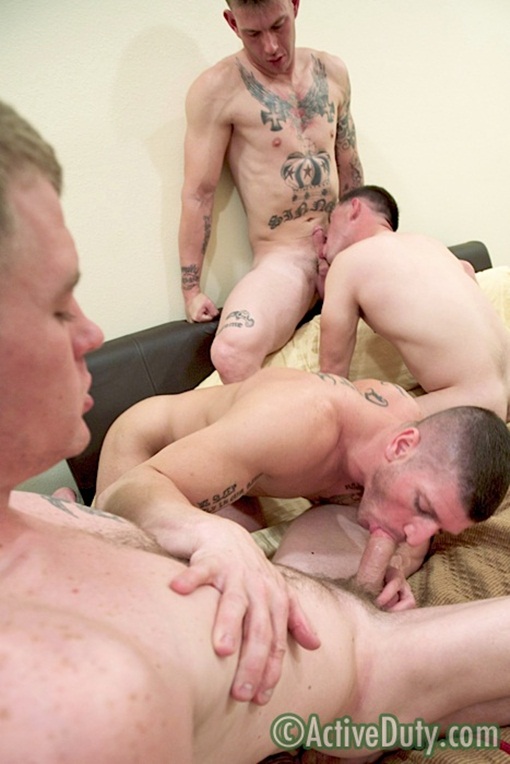 Active Duty is a site that never disappoints. While there have been many that have tried to imitate this site, nobody has as many authentic military guys as Active Duty. In fact, Dink, the guy who runs the site, has gotten into a wee bit of hot water for featuring real guys on his site. His studio is located in San Diego and he prefers to use guys that are actively enlisted. The guys on his site have gotten in trouble in the past and now the military keeps a close eye on it for their enlisted. All of that controversy will never stop Dink. In fact, it has helped his site become even more popular!
This latest video from Active Duty features the studly foursome of Dorian, DJ, Jack and Ransom. The four soldiers clearly come ready to play and the gay group sex video starts off with the sex in full swing with Jack sucking on Dorian's cock, while DJ services Jack, who is being serviced by Ransom. Did you get all of that? There are a lot of hot military guys and their big units to keep track of! There is lots of sex and it would take me pages to explain it, so the best thing to do is click here and watch the Active Duty video.
If you love hot military men as much as I do, you need to get a membership to Active Duty today! You won't regret it…
How people found this gay porn blog: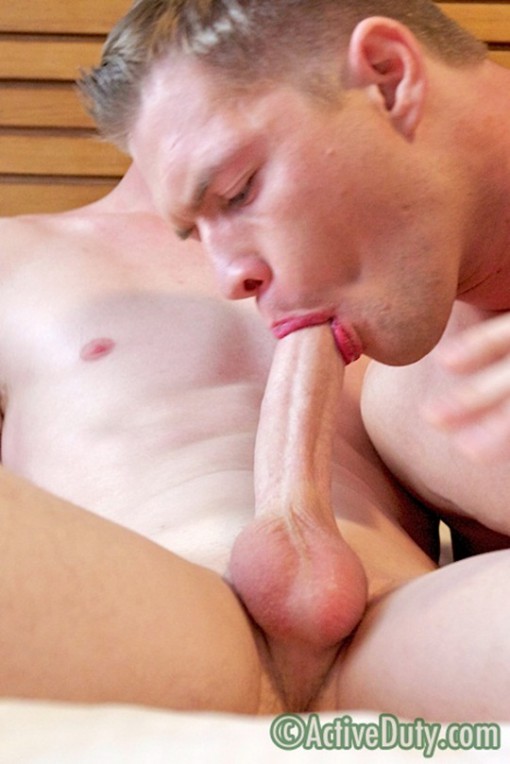 This morning I woke up and swung over to Active Duty to look for some hot military porn to get me off. As usual, Active Duty never disappoints and I rubbed one out to a hot video of fan favorite Kaden flip flop fucking Evan, a guy he actually recruited himself.
The two hot military studs start off with swapping blowjobs on the bed. This leads to Kaden standing Evan up on all fours so that he can work on Evan's tight and rarely used straight boy hole with his tongue and finger. After he losens Evan up enough, Kaden shoves his hot military cock deep inside Evan's eager and anxious hole working up to a brisk pounding that leaves Evan's hole in agony but yet leaving him in so much pleasure.
After Kaden works on Evan's hole for awhile, Evan decides it is his turn to give his big cock to Kaden and does just that. Kaden enjoys having his hole pounded by his friend and after a furious fuck, the guys cocks explode into a big stream of cum.
Watch this video at Active Duty!
How people found this gay porn blog:

Follow us on Twitter!
Follow us if you want to be the first to know about great new gay porn videos, photos and gossip!
Categories
Free Porn Sites
Friends
Spunk Porn Areas
Popular Search Terms
Random Search Terms
Our Friends