Browsing all articles tagged with fraternityx

The above screens caps are from the FraternityX video called Tag Team featuring Ayden and two of his buds who take turns with him.
Ayden likes going down on two guys at once and Zach and the third guy are happy to stuff their hard cocks in his mouth. They both pass Ayden around, shoving their cocks deep in Ayden's mouth.
While one of the buds is getting blown the other decides he wants to stick his cock in Ayden's ass and lubes him up. Once in, he starts fucking Ayden while he's on all fours and still blowing the other guy.
Watch this FraternityX video of Ayden, Zach and a bud!

Time to visit FraternityX again.
In this hot update from the gay porn site featuring real college frat boys sucking and fucking until their hearts are content, the boys fire up the bong and create some fun for themselves on an otherwise boring day. After they're all smoked up and feeling good, Krys and his buddy start fucking two eager and horny bottoms. To make things even more fun, they decided to go back and forth between the bottoms, plunging their big cocks into one's ass and then swapping. The bottoms love the fact that they're getting both guys cocks buried in their ass and are being treated like a piece of meat.
Meanwhile, while the two bottoms are getting their ass fucked, another guy is getting his ass played with until he blows a huge load all over himself.
As the college orgy winding down, the rest of the guys blow big loads of cum.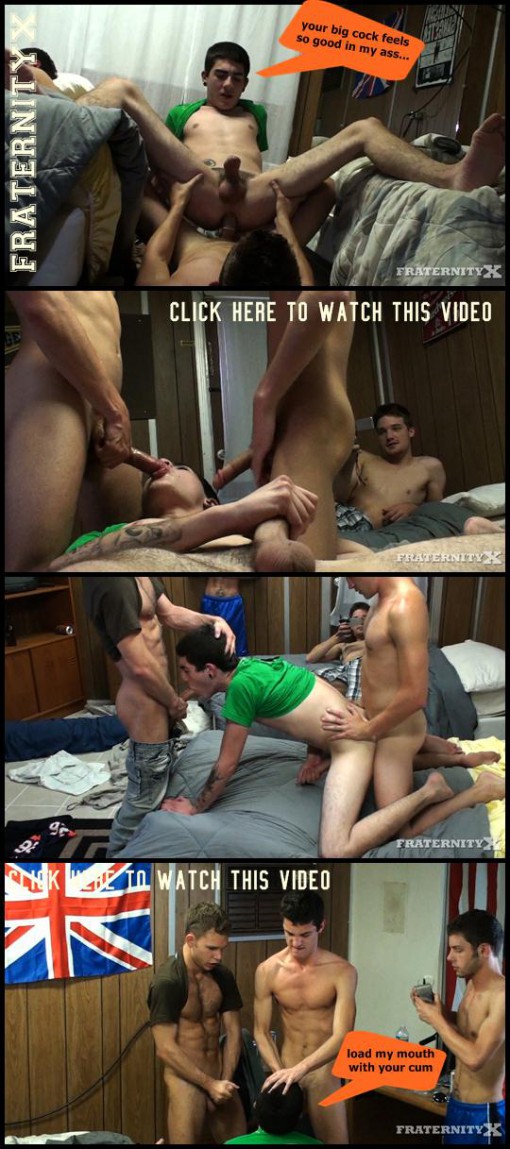 My of my favorite sites, FraternityX, just put out another super charged video called The After Party.
Dayton was out partying with his two buddies and met a hot trick that he wanted to bring back to the dorm to fuck. When they got back, the two buds passed out on their beds and Dayton hooked up with his trick on the floor between their beds. The trick must have loved having Dayton's cock in his ass because all of the noise he was making woke up the two buds. The two buddies woke up horny and decided to help their friend Dayton by working the hot trick's ass alongside their bud. When all three of the guys were getting closed, they had the trick get on his knees so that they could serve him their big loads.
How people found this gay porn blog:

The boys were sitting around the house nursing hangovers and decided to compare morning wood. Once they all realized they were rock hard and ready for action, Jackson and Dayton got their dicks sucked and took turns pounding Zach's sweet ass. Once it got to Jackson fucking him, Zach couldn't take it anymore and blew his load all over the guy fucking him. With that bottom spent, the guys turned their attention to Sebastian and started going to town on his fine ass.
After fucking Sebastian for while, they lie him down and then the guys blow their huge loads of cum all over him in this great FraternityX video.
How people found this gay porn blog:

Follow us on Twitter!
Follow us if you want to be the first to know about great new gay porn videos, photos and gossip!
Categories
Free Porn Sites
Friends
Spunk Porn Areas
Popular Search Terms
Random Search Terms
Our Friends