Browsing all articles tagged with jay cloud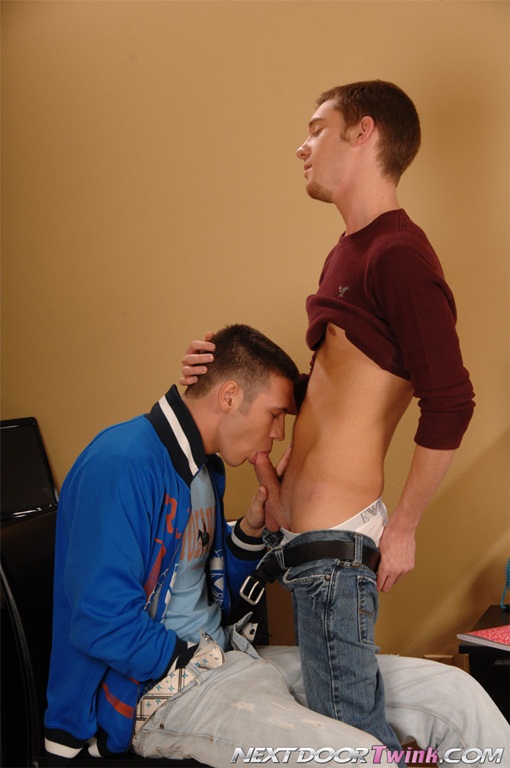 Today's update is courtesy of one of my favorite sites, Next Door Twink. The studio got together the sexy Jay Cloud and adorable Jordan Foster to do a hot scene together.
The scene starts off with Jay walking into the bathroom to take a piss. He pulls down his jeans and out flops his big meaty cock. As Jay is doing this, Jordan walks past the door and catches a glance of the huge cock that Jay is holding in his hands. Jordan takes it upon himself to walk in, drop to his knees and work Jay's cock from flaccid to rock hard in record time. After Jordan Foster works on the cock of Jay Cloud for awhile, Jay deciding it is time to return the favor, pull's Jordan's already hard cock out of his pants and they begin jerking off together. The temptation of Jordan's cock is too much and Jay gives him a hot blowjob. It all becomes too much for both of these studs and Jay bends Jordan over the bathroom sick, shoves his cock in him and they start fucking like wild bunnies. Jay fucks Jordan long and hard from the behind, pounding his tight hole while Jordan works on his own cock. Jay pumps and pumps until he cannot pump anymore and pulls out in time to blow a huge load!

Follow us on Twitter!
Follow us if you want to be the first to know about great new gay porn videos, photos and gossip!
Categories
Free Porn Sites
Friends
Spunk Porn Areas
Popular Search Terms
Random Search Terms
Our Friends